Fine Antique clocks
F. VAN KOLLENBURG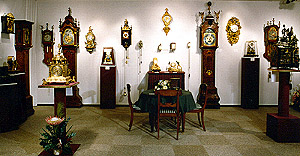 F. van Kollenburg V.O.F.

Rijkesluisstraat 19,
5688 EC Oirschot,
Netherlands.
tel: +31 499 572644
mobile: +31 653304534
fax: +31 499 574042

kollenburg.antiekeklokken.info



kollenburgantiek@zonnet.nl
find us
Frenk van Kollenburg

Het historische dorp Oirschot heeft, naast prachtige natuurgebieden met fiets-, en wandelroutes, ook een marktplein met gezellige terrassen en restaurants. Kortom de moeite van een bezoek waard!
En in deze mooie ambiance vindt u ook de antiekzaak van Frenk en Marjan van Kollenburg. Een zaak, gespecialiseerd in antieke klokken uit de 16e-, 17e-, 18e-, en vroeg 19' eeuw.
Gezien het oorspronkelijke beroep van Frenk, nl. fijninstrumentmaker, is de link naar het restaureren van klokken vlug gelegd. En daar ligt dan ook de basis
voor zijn hobby, nl.het verzamelen en herstellen van antieke uurwerken. Reeds op 14-jarige leeftijd kreeg hij de gelegenheid, via een antiquair, met antieke uurwerken aan de slag te gaan. Hierdoor is in de loop der jaren een schat aan kennis en ervaring opgedaan!
In 1979 ging een lang gekoesterde wens van Frenk, om een eigen zaak te beginnen, in vervulling. Inmiddels uitgegroeid tot een zeer erkend bedrijf met een breed aanbod van hoog gekwalifiseerde klokken. Nog steeds worden de meeste uurwerken door hem zelf gerestaureerd. Mede door dit laatste kan er een vakkundige en goed 'gefundeerde uitleg over de objecten gegeven worden.
Via deelname aan de gerenommeerde antiekbeurzen in Nederland heeft de zaak bekendheid èn een goede naam verworven.
Vele klokken hebben hun weg al gevonden naar een nieuwe eigenaar die, net als Frenk en Marjan, nu genieten van ons culturele erfgoed!


The historic village of Oirschot has much to offer – beautiful countryside with cycle routes and footpaths, a market square with convivial café terraces and restaurants. It's a place that's really worth a visit!
These lovely surroundings are also the setting for Frenk and Marjan van Kollenburg's antique business, which specializes in antique clocks from the 16th, 17th, 18th and early 19th centuries.
Frenk' original profession, that of fine instrument maker, is closely associated with the restoration of clocks. And this skill created the foundation on which he built up his longstanding hobby, collecting and restoring antique timepieces. At the tender age of 14 Frenk was given an opportunity by an antique dealer to work on antique movements. Over the years this practical involvement with old clocks has enabled him to acquire a wealth of knowledge and experience!
In 1979 Frenk's long cherished dream of starting his own business became a reality. This business has since developed into a highly respected firm that handles a wide range of top quality clocks. Frenk still restores most of the timepieces himself, which means that clients will always receive a well-founded, masterly description and explanation of the objects.
The business has become well known and acquired a good name through showing at eminent antique fairs in the Netherlands.
Many clocks have found their way to new owners who, like Frenk and Marjan, are now enjoying our cultural heritage!