The principal collection on Dutch horological items.
MUSEUM OF THE DUTCH CLOCK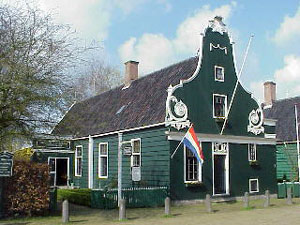 Museum of the Dutch Clock

Kalverringdijk 3, Zaanse Schans,
1509 BT Zaandam, Netherlands,
tel: +31 75 6179769
fax: +31 75 6157786

Opening hours:
March 1 - October 31:
Daily, 10.00 to 17.00 h.
November 1 - February 28:
Weekends, 12.00 to 16.30 h.


grimberg@doge.nl
find us
This museum, established in a picturesque 17th century cottage, comprises a unique collection of historical Dutch clocks from 1500 until 1850. Specific types of clocks are exhibited in working order, divided over several cozy rooms. The collection gives an almost complete chronological survey of the evolution of Dutch clocks, such as:

towerclocks

early pendulum-clocks (according to the principle developed by Christiaan Huygens)

regional clocks from Friesland, the Zaan-area and Amsterdam carillons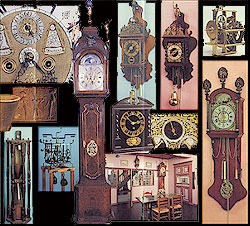 Admission:

Adults: 5.00 guilders
Children to 12: 1.00 guilder
Students, Seniors: 4.00 guilders
Dutch Museumpass-holders: free
Groups over 15 persons: 3.50 guilders

Museumguides available in English, French, German, Italian, Japanese, Polish, Russian, Slovakian, Spanish, Swedish and Turkish.

Group visits after opening hours, guided tours and use of museum library possible on appointment.

"Everyone to his taste: Zaan clocks from the 17th and 18th century "
25th anniversary-exhibition consisting of special signed Zaan 'Stoolclocks', longcase clocks and pocketwatches by clockmakers like Kornelis Michielsz. Volger (1665; 1678), Dirck Jacobsz. Volger (1687), Jan Kopies, Dirck Engel, Cornelis van Rossen, Jan Koogies, Hendrick Voorst and others. Plain and rich type clocks from a Mennonite region.