Fine Antique Clocks
& Barometers.
JOHN CARLTON-SMITH
BADA
CINOA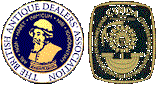 John Carlton-Smith

17 Ryder Street, St.
James's, London, SW1Y 6PY ·
Tel +44 (0)20 7930 6622
Fax +44 (0)20 7930 9719



info@fineantiqueclocks.com
find us
John Carlton-Smith is a member of the British Antique Dealers Association. He has been buying and selling antique clocks and barometers for 34 years, the last 20 from his premises at 17 Ryder Street in St. James, London.

He specializes in 17th to 19th century antique longcase (grandfather), bracket, mantel, table and carriage clocks from the most renowned English clockmakers such as Tompion, Graham, and Quare, and in Queen Anne and Georgian period barometers. Originality of the clock movement and wonderfully patinated, untouched cases are hallmarks of John Carlton-Smith's fine stock, which usually consists of 40-50 antique timepieces.



In addition, John Carlton Smith provides insurance valuation services for collections of antique clocks and barometers.