Antieke Uurwerken,
Barometers, Instrumenten.

NIKO VAN KEEP.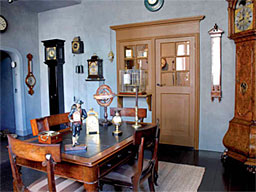 Niko van Keep. Antiquair Uurwerkmaker


Niko van Keep.
Ginnekenweg 328,
4835NL Breda, Netherlands.

Tel: 0765213279
Mobile: 0624466167


Nikovankeep@hotmail.com
Niko van Keep Antiquair en Uurwerkmaker in Breda kan enerzijds als relatief nieuw aangemerkt worden maar tegelijkertijd als ervaren en uiterst deskundig. Een fraai en sfeervol ingerichte winkel met eigen werkplaats getuigt van passie, expertise en een fi jn gevoel voor balans. De met zorg samengestelde collectie antieke uurwerken, barometers en wetenschappelijke instrumenten uit binnen- en buitenland mag zich verheugen in de belangstelling van een gestaag groeiende kring van even gewaardeerde als trouwe relaties en collectioneurs.

De met smaak en geduld, visie en kennis tot stand gekomen, gevarieerde collectie omvat topstukken die in het eigen atelier zijn gerestaureerd. Niko van Keep is, al dan niet in opdracht, voortdurend op zoek naar bijzondere stukken.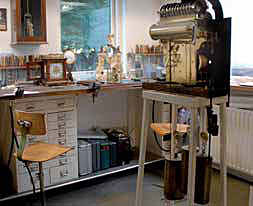 Niko van Keep trained as an instrument maker before working for the leading antique clock and instrument dealer Mario Crijns, who was later to become the owner of the internationally renowned Crijns & Stender. Over the following fourteen years, the firm provided Niko with the opportunity to study and work on the finest antique clocks, barometers and scientific instruments. With this professional depth and breadth of experience, Niko eventually decided to leave and became an independent restorer in his home town of Breda. Dealing in antique clocks in those days was subsidiary to his restoration work. However, in 2006 a new opportunity arose for Niko to take over the workshop and shop, where he used work for Crijns. Niko is now an international dealer and antique clocks expert, exhibiting at Art Breda in the Netherlands and fairs in Germany. Niko's clients are provided with objective independent advice gained from over thirty years of experience from restoring and dealing with the finest clocks and scientific instruments. The quality of his personal client care has enabled Niko to establish long-term relationships and friendships with collectors. Those seeking his guidance, whether to purchase or restore a clock or simply for help and advice, can be confident in the depth of the expertise and discretion that they will receive. All enquiries are always welcome.